Mason Neck State Park is on a peninsula formed by Pohick Bay on the north, Belmont Bay on the south and the Potomac River on the east. The peninsula is an active heron rookery. The park also attracts several other migrating and non-migrating species of birds, including tundra swans and assorted species of duck. Bald eagles also inhabit the area. The park boasts several hundred acres of hardwood forests consisting of oaks, holly, hickory and other species of trees. In addition, several wetland areas are also found in Mason Neck.
Land was purchased over the years from the Nature Conservancy. The park connects with a National Wildlife Refuge, which is more than 2,000 acres. The park opened to the public in 1985.
Learn about the community founder, George Mason.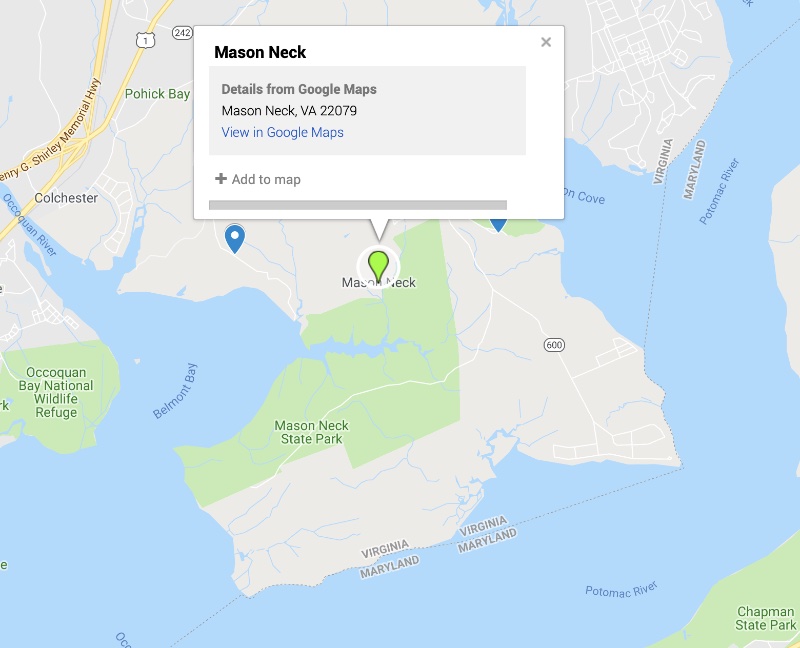 George Mason's Gunston Hall
Gunston Hall is an 18th-century Georgian mansion near the Potomac River in Mason Neck, Virginia, USA. The house was the home of the United States Founding Father George Mason. It was located at the center of a 5,500 acre (22 km²) plantation.The home is also located not far from George Washington's home. The construction period of Gunston Hall was between 1755 and 1759.
Though George Mason IV built Gunston Hall as the "family seat" designed to remain in family hands in perpetuity, this was not to be the case. After his death in 1792, the mansion passed in quick succession to his son, George Mason V, who died in 1796, and then to his grandson, George Mason VI. Upon his death in 1834, his second wife Eleanor Clifton Patton Mason inherited the residence. She and George Mason Graham, who owned part of the property, sold Gunston Hall by 1867 to William Merrill and William Dawson. They in turn deeded the property to Edward Daniels in 1868. During the 1880s, the house was leased to Frank and S. M. Smith, who boarded local residents during the summer. Emma and Joseph Specht purchased the house in 1891 from Edward Daniels. The Specht's daughter Adelaide sold the house to Paul and Vaughn Kester in 1907. After his brother's death, Paul Kester sold the house to Louis Hertle in 1912. The Hertles were the last private owners of Gunston Hall before its gift to the Commonwealth of Virginia in 1949 to be administered by Regents from the National Society of the Colonial Dames of America.